A goal, without a plan, is just a wish and true success always starts with a plan. And nothing helps to achieve those goals more than a strategic sales plan. A well-defined sales strategy is your path to meaningful, sustainable growth. Get it right and watch your company's growth trajectory go up. Go without one and risk seeing your business flame out.
With your sales team in mind and the desire to drive more revenue, a sales plan can show you where you're at, where you want to be, and even more important, how to get there.
Here are the eight ideas to help you create a successful sales plan strategy for 2021.
1. Define Your Buyer's Journey
You and your team members will be like fish out of water if you don't define the journey a prospect takes to find you and become a client. Before you start this process, first check with your marketing team to see if this is something they have already done. In my experience, marketing will take on the responsibility or at least assist with the development of your ideal buyer profile, personas, and the journey.
The best place to begin mapping out the buyer's journey is with your best clients. Look to your promoters for important insights as they will be willing to provide a tremendous amount of insight into the how and why to becoming your client. When was the last time you bought something similar to our service or product? Was that a good or bad experience? Why? How did you make your decision back then? What was the decision-making process like? How did you evaluate different offers? What were the deciding factors that made you chose that particular solution?
Also, if you are a sales executive or sales manager, collaborate with your best sales team members to get their input.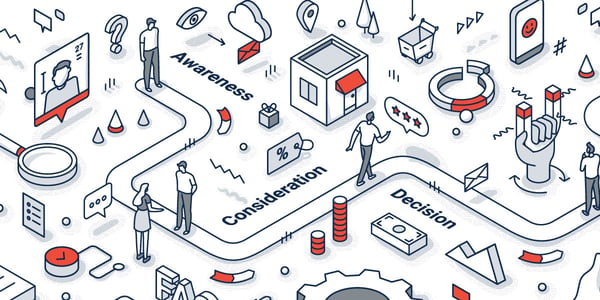 Know the three distinct phases of your buyer's journey, the Awareness Stage, the Consideration Stage, and the Decision Stage.
2. Know Where You've Been So You Can Understand Where You're Going
Prior to planning your future, first look toward the past. Do an assessment of 2020 and ask questions such as:
How much did your team sell?
Who sold it?
To whom did they sell it?
How much will result in repeat business?
Which clients brought in the least and most profit? Make sure to add in support time!
What is client lifetime value?
Which clients had the shortest sales cycles?
Which clients had the highest revenue?
What has changed?
How are you positioned to achieve the revenue targets you have identified?
Where is the most logical place to look for growth?
What exists to support the desired growth?
What additional support will your team need to achieve the desired increases?
What assistance do you need from your marketing team to achieve your goals?
By understanding where you have been, you can begin to determine where you should go.
3. Create Clear and Differentiated Roles on Your Team
A guiding principle of a sales leader is that focus breeds excellence. Sales reps, especially new ones, struggle to be fabulous at multiple sales motions. That means when you're formulating your sales strategy, you need to be explicit about creating the right, differentiated roles on your sales team and ensuring you're incentivizing and prioritizing the right motions within those roles.
Consider both inbound sales and outbound sales, for example. Inbound and outbound require vastly different skills and workflows. The manager on an inbound team need to be fixated with analyzing top-of-the-funnel trends—the marketing and social media channels bringing in qualified leads—and increasing the conversion rate from lead to opportunity with tactics like live chat and conversational marketing. The manager on an outbound team, on the other hand, need to be able to get sales reps gunning to go out and evangelize the product's amazing benefits for customers. The point is they're different teams, different reps, and different motions.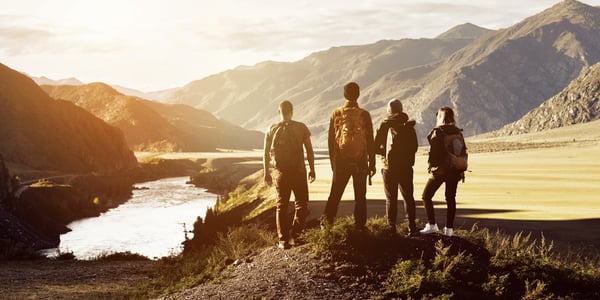 Sales managers need to consider the different roles and sales reps best suited for those roles.
4. Tools and Systems
Summarize the systems and tools needed to support the successful implementation of your sales plan. This will help to ensure your sales activities and associated processes are performed using your defined best practices and methods. If you are using a CRM, now is a good time to ensure you have your system optimized to perform at a high level. Track, measure, and adjust!
This is a good place to lay out which tools your salespeople should use to succeed in their jobs (e.g., training, documentation, sales enablement tools, etc.).
5. Plan to Increase Client Lifetime Value
Building customer loyalty and increasing sales to existing customers should be a constant focus of your operation. Bringing people in the door sometimes requires different approaches based on your needs at the time. For example, if the spring months of March, April, and May typically are slow for your business, it's a good idea to schedule events during those months designed to bring potential customers in the door.
Don't limit yourself to strategies built around sales. Consider holding workshops or training sessions centered around the products or services you provide to draw attention to your brand. Let the sales come naturally from that boost of attention.
6. Prospecting and Partnership Strategy
How will your sales team qualify the leads that are generated by your overall marketing strategy? Don't forget to include the criteria prospects should meet before sales reps reach out. And identify which inbound and outbound sales methods your team will use to close more deals. When developing your prospecting strategy, be sure to include goals for activity that is key to the success of your team. Activity goals can include first meetings, demoes, MQL to SQL conversions, number of prospects contacted. I suggest creating a short timeframe for tracking activity goals, such as daily or weekly. If you string it out any longer than that, you can quickly struggle to stay out ahead of your business.
If you and your team will be developing leads from partnerships, be sure to list out the existing partnerships and how many additional partnerships you would like to foster in the upcoming year. Also, now is a good time to evaluate current partnerships and those that are not bearing any fruit, kick those to the curb!
7. Competition
Begin here by listing out your competitors. Explain how your products compare, where theirs are stronger than yours, and vice versa. Be honest with yourself regarding your vulnerabilities. In addition, compare their pricing versus yours. If you haven't already done so, be sure to create your SWOT analysis.
You should also include market trends. If you're a SaaS company, you should note vertical-specific software is becoming more popular. If you sell ads, mention the rise in programmatic mobile advertising. Try to predict how these changes will influence your business.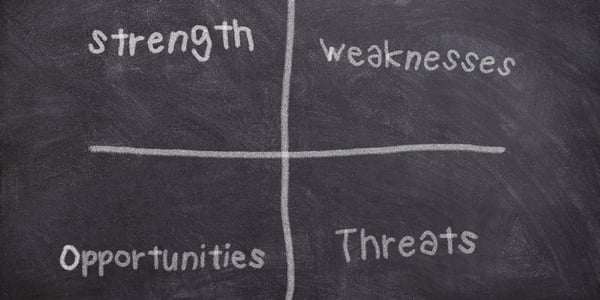 Every organization should complete a SWOT analysis.
8. Budget
Describe any costs associated with hitting your sales goals. Typical costs include:
Compensation (salary, commission, and bonuses)
Training
Tools and resources
Incentives and prizes
Team activities
Travel costs
Food
Events
Lastly, don't be afraid to be innovative and think outside the box. If the last six months has taught us anything at all, it's that creativity can win the day.