Thanksgiving is right around the corner, so we thought it would be fun to share some of our favorite Thanksgiving memories and traditions with you, our fair readers. But if you're hoping for cherished stories of time-honored, festive customs you might be a little disappointed. Well, at least our intentions were good. You'll see what I mean. Enjoy!
Christian
Aside from watching A Charlie Brown Thanksgiving and our beloved Detroit Lions lose seemingly every year, there's not many traditions in my family's house, so allow me to share a story. In my first semester in college (2015), I worked for Wabash's Sports Information Department. Our football team qualified for NCAA's Division III playoff, which started the same weekend as Thanksgiving Break. Though we won the game, the part I remember best was the snowstorm: halftime was an hour long because that's how long it took to clear the snow off the field (thankfully for me, the press box's space heater was running). It sure made for a memorable ride home! 
Joe
The nap. I don't know if it would be considered a tradition to most, but year after year I look forward to the Thanksgiving post-meal nap. I don't even recall them being restful naps, but they are well earned. The whole day is a race up to the meal, cleaning up, cooking food, trips back to a busy store for something you forgot, dressing up, getting your kids dressed up, going back to the busy store again, transporting food, setting the table. By the end of that race you are full and done. No one even minds if you pass out because the Lions are losing again, the kids are playing, and you aren't alone in your fatigue… Everyone understands.

If you only get one nap per year make sure to reserve it for Thanksgiving.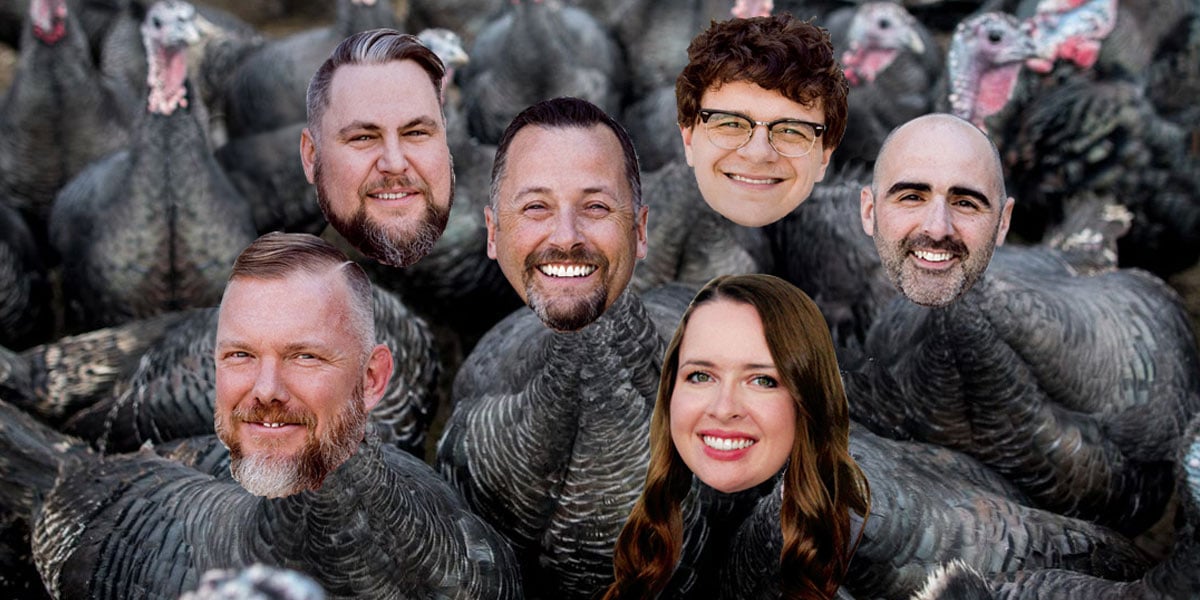 What a bunch of turkeys.
Adam
My favorite part about Thanksgiving is the extreme infusion of that glorious sleep-inducing chemical—existing in large amounts within turkey—known as tryptophan. That's right, my favorite aspect of Thanksgiving is restful slumber. My ideal Thanksgiving includes, in this order: scoping out the table that my loud aunts are not sitting at (my family is large enough to need two tables for the adults). Next comes the food: oven roasted turkey, ham, stuffing, mashed potatoes and I guess there are some vegetable sides about…no times for those, I have to save room for pumpkin pie with whip cream (perhaps two slices). Then, while I can still move, I slip away to the family room downstairs and claim the couch while everybody else is still upstairs yakking away. I sink into the couch (perhaps there is a blanket near) and I blissfully slip into my Thanksgiving coma while watching the Lions get beat again through one half-open eye.
Caitlen
Throughout college, I usually had to work retail on Thanksgiving day which scarred me for life. This year, I am relieved that I don't have to deal with the craziness and I get to actually enjoy it. While my family doesn't have any specific traditions, I would say our Thanksgiving is pretty relaxed. My holiday usually consists of a yummy dinner with my family, a nap (or two), stretchy pants and football. Then the following weekend, I get to repeat it all again with my boyfriend's side of the family.
Which reminds me, calories don't count on Thanksgiving ...right?
Jack
A tradition that I am in process of creating for my Thanksgiving guests is replacing the turkey with prime rib. This will be the third year for my new, beefy Thanksgiving tradition, and quite frankly I don't ever plan on going back! Let's be honest: turkey sucks. It's dry and flavorless; you have to smother it in gravy to even make it edible. And while some at SW might utilize it as a primitive form of sleep aid, the sub-optimal taste and texture of turkey make it a poor choice as a celebratory dish. Besides, historians aren't even sure that turkey was served at the first Thanksgiving. So why are we submitting ourselves to the consumption of this bland, insipid dish? Word of advice: forget about serving the crappy bird and go with prime rib. You (and your guests) will thank me. Oh yeah. Ditch that atrocious stuffing. It sucks too.
Chris
Thanksgiving has always been a time to bring our family together and to express our gratitude to God, enjoy each other's company and loosen the pants in preparation for a hearty Thanksgiving dinner. Some of the best parts of the holiday (aside from the aroma of the roasting turkey and my wife Shelly's homemade pumpkin pie, of course), are the longstanding traditions that make the day so special. We've watched the Macy's Thanksgiving Day Parade on TV as far back as I can remember and there is always a football game playing in the background. In addition, once our guests have left, we crack open the leftovers and prepare for the movie marathon. Nothing goes better with warmed up stuffing and mashed potatoes than a good movie or two!