Brian Rodgers Jr. is an award-winning Commercial Photographer, Digital Artist and founder of Digital Art That Rocks LLC. Brian's commercial work has been featured on the cover of Photoshop User Magazine and published in a variety of other national and international publications including Architect Magazine.
Brian is a widely-respected expert at his craft. In addition to running a full time commercial photography business, he's also become a highly acclaimed photography educator in the online education space. We were very excited to sit down with him for this installment of Five Questions With….
>> Learn About Graphic Design in Our FREE eBook <<
How did you arrive at your current role?
I've been an artist my entire life. I took nearly every art course available in school in my younger years. I found my way to advanced placement art courses, Scholastic Arts Awards, and eventually a scholarship that helped me in earning a degree in visual communications, all tuition free. Growing up, I was always a hard worker and self-starter. When I was about 11 years old (prior to the luxury of paying taxes) I went door to door and started convincing people to hire me to mow their lawns every week. I used some of money to buy my first electric guitar. Little did I know at the time, teaching myself how to play that instrument would teach me many virtues over the course of my life including discipline, patience, creativity, and tenacity.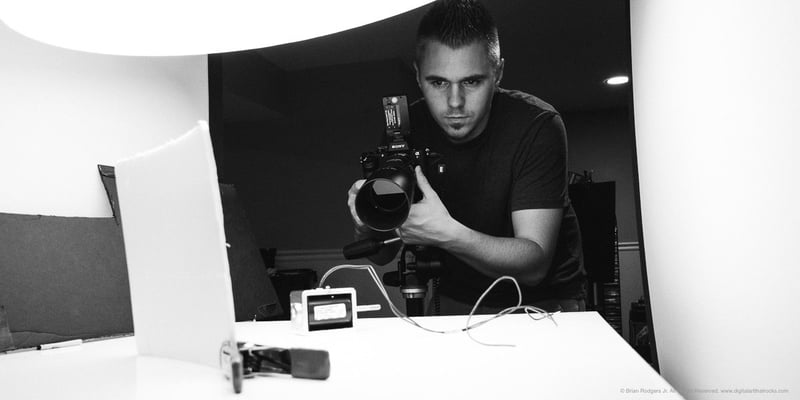 Brian Rodgers Jr. working on a project in his photography studio.
I graduated college just before the recession of 2008. As you can imagine, finding a job in my field was next to impossible. I had been working in the retail industry since high school and continued to do so during and after college. In addition to working in retail, I started engaging in freelance photography services. Eventually I took a position on a 3D modeling team at the corporate office of one of the largest retailers in the world. At some point, I realized the carpeted walls of corporate life wasn't for me. I then worked full-time at a commercial photo studio for a period of time, then an ad agency, and finally came full circle running my own full-time commercial photography business. Running my own company and being my own boss was something I had always dreamed of.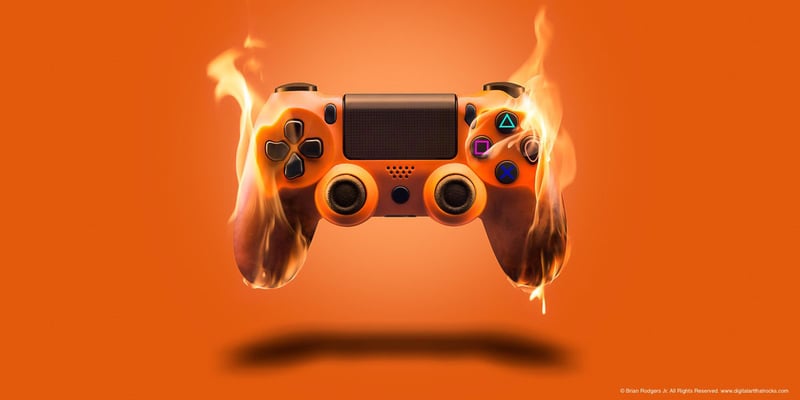 Brian Rodgers Jr. is a widely-respected, award-winning Commercial Photographer/Digital Artist.
What does your average day look like?
One thing is for certain, every morning starts with coffee and music: preferably something heavy! I really try my best not to make any given day an average day. I'm always setting new goals for myself and my business. I work with clients from all parts of the country. Some days I'm in my studio shooting epic product imagery for advertising campaigns. Other days, I'm traveling and working on location shooting architectural work in other states like Virginia, Tennessee, or Kentucky. It's a really nice balance.
What is the greatest challenge you face in today's marketplace?
Funny you should ask. At the time of writing this, the COVID-19 pandemic is probably the biggest challenge I've faced in my business thus far. Most of my clients are out of the office right now. Some are working from home while others have temporarily closed. Some of my clients are essential businesses working with a skeleton crew. At this point, it's really a matter of keeping a positive mindset, staying in touch with people and working on other areas of my business knowing that this will eventually pass.
How does sales and marketing fit into your role?
As a solopreneur, it's essential that I wear many hats in my business. The art of sales and marketing is a large part of that eclectic mix. In addition to creating commercial imagery for both my clients and my portfolio, it's essential for any business to continue marketing their brand and selling their services. I don't have anyone to delegate those tasks to. That means, I'm the sales and marketing department. And I'm okay with that. Because in my mind, nobody knows my brand and capabilities better than I do.
What do you like to do for fun?
I love hanging out with my wife, listening to music, playing guitar, riding my bike, going to concerts, and watching standup comedy. I'm also a self-proclaimed lifelong learner. So, for me, that means I spend a good portion of my time educating myself, learning new things, and challenging myself with creative self-assignments that really push my skillset. I'm always striving to get to that next level of artistry.