Inbound marketing is far from a new concept. In fact, it is a marketing strategy that has been around since 2005 after the phrase was coined by HubSpot co-founder Brian Halligan. Inbound continues to gain new advocates and supporters every day and the reason for this continued growth is the fact that inbound marketing is all about building meaningful, sustainable relationships with prospects and customers alike.
While traditional forms of marketing tend to interject messaging and content abruptly, inbound offers your target audience valuable content and helpful experiences that correspond with their unique goals and challenges. Sounds awesome, right? It is. But how does a new inbound acolyte get started?
There are three principles on which every inbound marketing strategy is based. If you wrap your head around these fundamentals, you will be well on your way to inbound marketing. These three fundamentals are: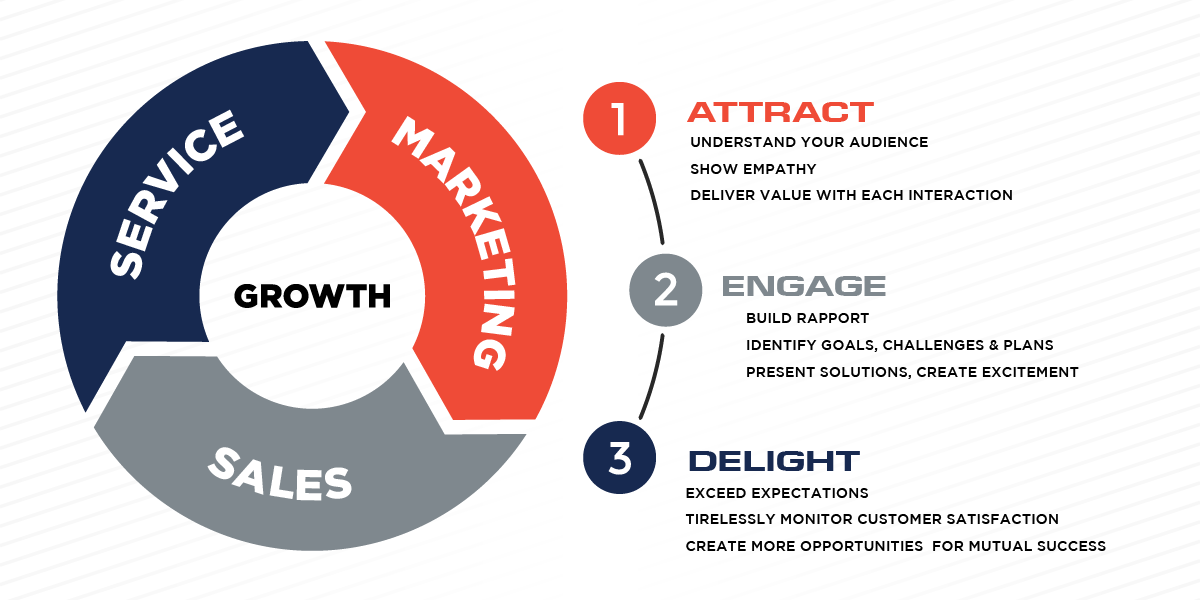 Attract
It all starts by drawing the right people into the conversation. Oftentimes marketing strategies are inefficient or produce sub-optimal results because the audience isn't a good fit for the product or service. Inbound marketing attracts prospects matching the profile of your ideal customer so that right out of the gates your chances of doing business together are strong. The way inbound does this is by leveraging content and conversations that establish you as a trusted advisor with whom they want to engage.

Strategies for attracting the right audience vary, but they all start by knowing your audience. Create buyer personas for your different types of ideal customers. Then, use these buyer personas to craft and deploy content that your audience will find valuable. Also, use high volume, low competition keywords related to relevant subjects and topics when you create your content. By doing this, you'll increase website traffic from searches associated with your prospects' goals and challenges.
Engage
Once you've attracted the right audience, it's important you occupy their interest or attention. This is the engage phase of inbound marketing. During this phase, you will work to uncover a prospect's pain points and strategic objectives. Knowing the specifics of the problems they are trying to solve will position you to help them discover the best solution. It's important that you focus in building the relationship and helping them deal with their challenges, not closing the deal. Remember, it's about them, not you.

Strategies for effectively engaging your audience should include solution selling versus product selling. Carefully considers your prospect's needs, so you can recommend specific products or services that will best accommodate their individual problems and concerns. Also, look for ways to reduce the friction as you begin and continue to communicate with your prospects. A multichannel approach can be very effective. Email, social media and chat windows are excellent tools for engaging with prospects you've attracted. Personalize your interactions and continue to bring value to the table in the form of helpful content, insights and solutions.
Delight
Everything you've said up until now is a promise - make good on the promises you've made. Provide help and support to ensure your client's success with your product or service. This is the core of delighting customers. The delight element of inbound marketing is critical, as it creates referrals and testimonial content, which strengthens the attraction and engagement of future customers. Remember, cultivating a relationship with your customer beyond the sale can lead to higher customer lifetime value as well as word-of-mouth referrals and more.

An excellent strategy for delighting clients is surveys. We often use NPS surveys to build actionable service plans and serve as a jumping off point for the collection of testimonials, referrals and data with which we can build and optimize personas. Client onboarding, training and ongoing resources are also essential parts in supporting your clients. Monitor social media and interact with clients as they share their experiences, ask questions and provide feedback. Respond to them with information and tools that help them to reach their goals. Remember, a client's success is your success.

Inbound isn't going anywhere. Regardless of the industry you are in or the size of your company, deploying an inbound marketing strategy will help your company grow. When new customers find success they will share it with others. As they do, new prospects will be attracted to your organization as you slowly build a self-sustaining flow of endless customers. This is how organizations in today's ultra-competitive marketplace build long-term growth, and this is why inbound should be the foundation of every marketing strategy.