Sharp Wilkinson recently announced the addition of their newest team member, Cayla Harter.
Cayla is from the small, rural town of Wapakoneta, Ohio. She is a 2021 graduate of Ball State University where she studied Advertising, Media Presentation and Design, and French. While there, Cayla was a member of Ball State's American Advertising Federation chapter. Cayla completed an internship at WRCD, Ball State's campus radio station, and worked as a reference assistant at Bracken Library while at Ball State. She hopes to contribute to Sharp Wilkinson's continuing growth with the experiences that she brings with her.
Cayla is new to the South Bend area. She is excited to start learning from her team members at Sharp Wilkinson. She is enthusiastic and ready to learn. She has skills and experience in graphic design, social media, web design, and copywriting from her classes, extracurricular activities, and internship.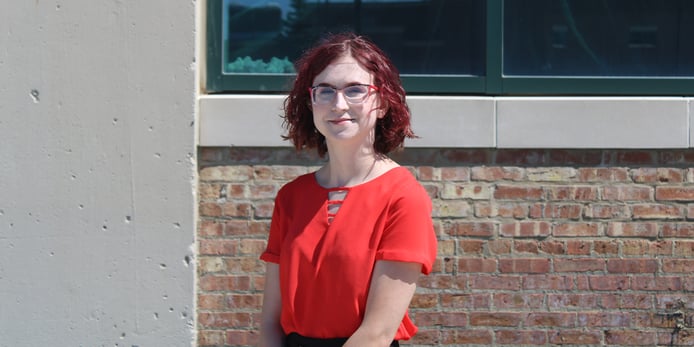 Sharp Wilkinson's newest Marketing Specialist, Cayla Harter
"Cayla impressed our entire team from the start with her understanding of marketing and design", said Jack Wilkinson, Managing Partner at SW. "Her presence on our team will enable us to produce a wider variety of high-quality work, faster. This translates to more value for our clients. It's easy to see why we are so excited about her coming on board."
Cayla is a homebody and spends most of her free time with her dog Lucy. She also enjoys binge-watching Criminal Minds and Marvel movies and playing Animal Crossing. She enjoys baking and trying new recipes as well. Recently, Cayla has been using some of her free time to explore the area and learn more about South Bend and neighboring communities. We are excited to have Cayla join our team and look forward to seeing what skills she brings to the team!