Well, another Inbound is in the books and the 2018 edition did not disappoint. It had everything Inbounders have come to expect from their beloved conference: great speakers, unbelievable breakout sessions, the best of Boston food trucks and happy hours with 24,000 of your closest friends.
This year I came away with insights that shook the ground beneath my marketing feet. I saw concepts that I thought were unbreakable crumble to the ground. I learned techniques to get more out of less in a shorter amount of time. I was hit with innovative ideas and strategies over and over again until by the end of the week I was little more than a quivering mound of marketing jelly.
Develop Better Personas Using Our Handy Buyer Personas Template -- Download Now!
Ok, maybe that last part was a bit much -- but Inbound '18 delivered. And while there's not enough space here to tell you about everything I took in, I will share with you the three biggest pieces of marketing wisdom that I brought home with me:
#1 - The Funnel is Dead.
Oh yeah. I'm not kidding. the upside-down pyramid we all know and love is done. It's replacement -- a flywheel. Having troubles visualizing what, exactly, a marketing and sales flywheel looks like compared to a funnel? Check it out: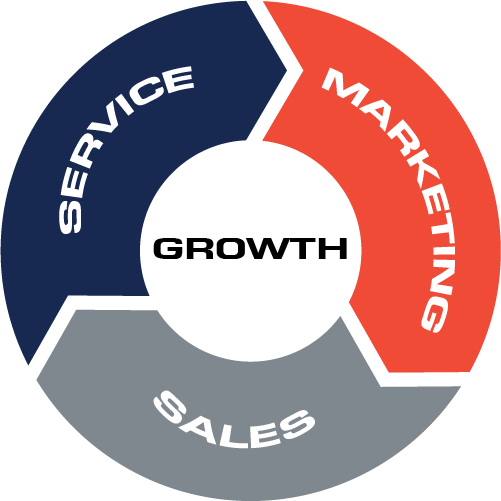 Behold -- The Growth Flywheel
In today's market, the conventional marketing and sales funnel has a huge flaw. It doesn't account for the business you cultivate from clients who are delighted with your products and services. If you want word-of-mouth referrals and the low-hanging fruit of upselling to the customers you already have, it's imperative that you start using a more cyclical model to map your buyer's journey. Thus, the flywheel. How well a flywheel spins is dictated by three distinct factors, not the least of which is friction.
#2 - If You're Not Utilizing Schema on Your Website, You'd Better Start.
First, a brief history lesson.
Search used to be keyword-focused. Engines used text-retrieval, exact matches and keyword frequency to find what they perceived to be the best answers to user search queries. But they could not distinguish between words that were spelled the same and had different meanings (e.g. bow). Also, old search algorithms struggled with identifying synonyms. Content didn't necessarily have to "make sense" to get good results. Older search engines could be gamed by savvy programmers and marketers, who would endlessly generate keyword-rich content and create junk links to get the best search engine page results (SERPS).
The worm has turned. Nowadays, search is semantic. Since the Hummingbird release in 2013, search has been increasingly driven by user intent and context. The mission for modern search engines is to deliver relevant answers to both specific and vague queries. To do that, it uses on-site elements other than keywords and metadata to crawl, index and serve results. That's where schema (aka structured data) comes in.
Schema is code you can put on your website to help search engines put your data in context. It explains what your page is about. Without schema, engines only see what your content
says --
they can't necessarily figure out what it
means.
Schema, when combined with other strategies (such as creating content with lower bounce rates and organizing it in a way that maximizes time on-page), is a critical component to getting the best SERPs.
If you're not using it, rest assured your competition is (or will be). So get on it.
#3 - There May Be a Formula To See What Emails Are Working and What Aren't.
As data-driven marketers, we all have metrics we monitor. Unfortunately when it comes to email marketing, those numbers don't always tell the whole story. For instance -- two separate marketing emails containing content calls-to-actions might have comparable open rates and click-through rates, but they may actually perform quite differently..
The next time you analyze two or more email sends, try applying this formula:
Click-Through Rate (CTR) minus Unsubscribe Rate (UR) greater than or equal to zero or

This formula will give you an Engagement Health Rating, with which you can benchmark emails -- not using compartmentalized, individual metrics -- but with a holistic score that is derived from true prospect engagement versus true prospect disengagement. Give it a try -- let me know what you think.
All in all, Inbound 2018 was incredible and I hope to see all of you at Inbound 2019.