We all have our favorite ad campaigns, but what about the ones that crashed and burned? In this post, SW team members relate their favorite stories of marketing efforts that didn't quite work out the way they were supposed to. Enjoy!
Chris
New Coke
In 1985, Coke decided to test out a new formula. The result of that new formula was the cleverly-named "New Coke". New Coke (much to Coke's chagrin) became the stuff of marketing failure lore when it was discovered that nearly everybody absolutely hated the release. What's most interesting is the little-known fact that focus groups gave New Coke very high marks, with many claiming it tasted better than the original flavor! But where Coke truly dropped the ball was in not understanding the impact that regular Coke had on American culture. People wanted to drink the same Coke that their grandparents gave them on their birthday. They wanted to enjoy "Coke Time" with Marilyn Monroe.
During the New Coke fumble, Pepsi took advantage and started running ads poking fun at the fiasco, converting Coke lovers to Pepsi drinkers. Not long after, New Coke was kicked to the curb and Coca-Cola reverted back to the old formula. Coca-Cola Classic was born. But that's another story.....

Jack
Chrysler F-Bomb
On March 9th, 2011 the person logged in to Chrysler's Twitter account was experiencing a bit of road rage. As he sat, stuck in traffic in Detroit on I-696, Scott Bartosiewicz wrote (on what he thought was his personal Twitter account), "I find it ironic that Detroit is known as the #motorcity and yet no one here knows how to f***ing drive." Instead, it posted to the Chrysler account, a mistake that cost both him and his firm dearly.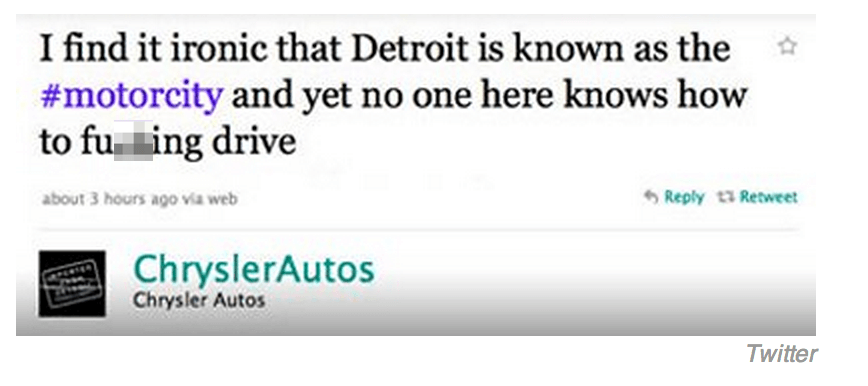 Scott was fired and Chrysler parted ways with his employer, New Media Strategies. The gaff came at a bad time for the automotive manufacturer. The marketing campaign they were engaged in at the time celebrated the city of Detroit, complete with a splashy Super Bowl ad featuring hip hop icon Eminem. It just goes to show you how important it is to have someone you trust running your social media. The last thing you need is to have someone manning Twitter who is -- ahem -- asleep at the wheel.

Joe
Gap-gate 2010
The clothing company Gap learned a hard and costly mistake in 2010 about brand identity. In the face of declining sales, the then president of Gap decided a fresh look would turn into new revenue. For their logo and visual re-design, they reached out to Laird and Partners, a creative and branding agency that focuses on the fashion, beauty, and lifestyle industries.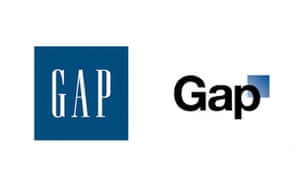 Laird and Partners provided them with a logo that was as technically faulty as it was bland. Gone was the memorable condensed serif typeface on the blue field that has humbly served the company for over 20 years. Seemingly overnight it was replaced with a faceless Helvetica font and an unnecessary blue gradated box.
As outrage grew about the horrible new design Gap made another bone-headed move to ask the public for new logo suggestions, seemingly wanting a free crowdsourced logo to dig them out of this hole. This only went to cheapen the brand's look and gain the ire of design professionals.
After a six-day barrage Gap surrendered and put everything back to the way it was, with a total price tag of about $100 Million dollars for the whole debacle. This appears to be a perfect storm of failure, from the haphazard and rushed approach, to creating a new look, to the designers at Laird and Partners completely dropping the ball on the design, to a rushed launch.

Quentin
Kendall Jenner, Pepsi Activist
In 2017 Pepsi ran an ad that began with Kendall Jenner posing for a photoshoot, and people of color and different ethnicities protesting. Kendall joins the march after one of the protesters waves at her to join them. She continues until the protesters are stopped by a row of officers. Kendall gives an officer a Pepsi and the protesters explode with approval. This ad was perceived as insensitive to the Black Lives Matter movement. People believed that Pepsi was trying to appropriate a real protest for their own gain. A day later, the Pepsi CEO pulled the ad and apologized for missing the mark.