WANT TO TRACK YOUR CONTENT'S TRAFFIC?
...But Not Sure What to Monitor?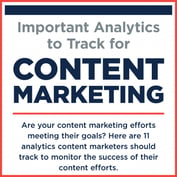 Analytics are used by marketers to track the success of their content efforts. By tracking these 11 analytics you can gain better insight of overall growth, reach, engagement and revenue. Want to learn more?
Download Your Content Marketing Analytics Infographic Now!